AdminLTE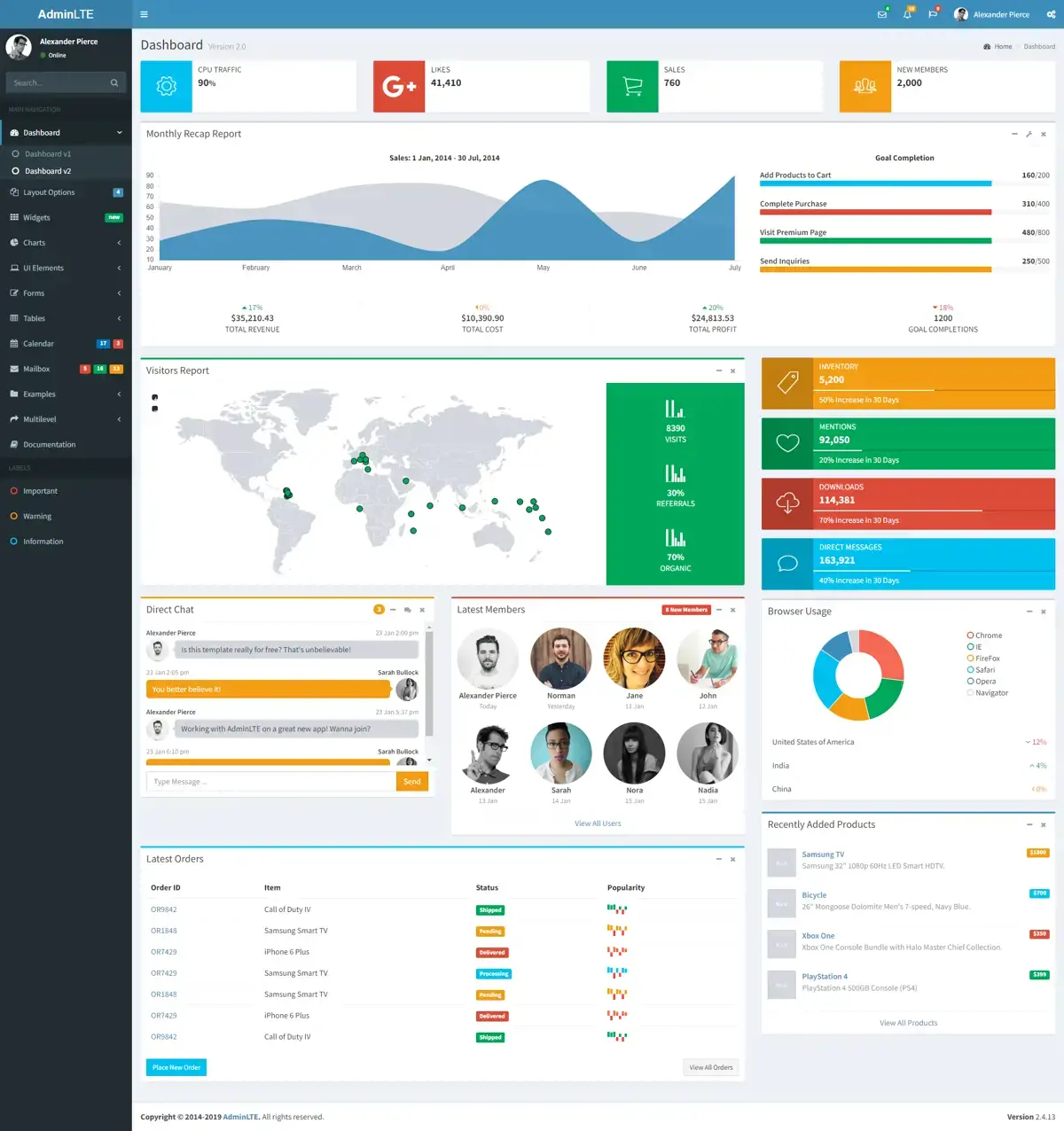 Description:
Admin panel & dashboard theme can save hundreds of coding hours, especially the front end coding. Using a dashboard template for your web application will reduce your effort and help you complete your project successfully and quickly. Download Admin LTE, a Free Bootstrap 3 HTML5 Admin Dashboard Template. This is one of the best free templates and widely used admin dashboard theme around the globe. Thousands of web application developers, programmers, back end developers use it and bolster its authenticity.
So, Admin LTE is one of the best open source admin dashboard & control panel theme serving millions of web admin panel and back end.Moreover, the free bootstrap dashboard template has lot of useful and reusable components, responsive UI and other important features.

Now, when it comes to the front end it has to be responsive. Never mind about the back end, it's not that important. Oh really? not in a million! No matter who you are working with, who your clients are or, to a point, you! Your admin dashboard has to be responsive! Otherwise, while browsing from mobile screens, iPads or any handheld gadgets, you are doomed for sure. So, pick the right admin dashboard theme wisely. Choose the responsive one – the matter if it's free or premium comes later.
This Free Bootstrap 3 HTML5 Admin Dashboard Template is genuinely responsive. This is an awesome theme you can have for free. Because, while approving this admin panel theme we checked the layout just to find its 100% mobile-friendliness. As it is created with the magical bootstrap framework, responsiveness is much assured.

Lot of features make it one of the best theme of its kind. A true, 100% FREE, perfect admin dashboard and control panel theme developed by a developer for developers. It's the hot cake to the web application & back end developers. Let's check out some juicy features.
1. W3C Validated HTML5 & CSS3 Code
2. Mobile Friendly Responsive Design
3. 1000+ icons from Font Awesome, Ion icons & Glyphicons
4. 6 skins to choose from
5. Enhanced For Printing specially the invoice page
6. Feature savvy yet lightweight
7. Supports major web browsers
8. 3 AdminLTE only plugins with more 18 plugins support
9. World's largest community for free admin dashboard & control panel theme
10. Continuous Updates & Upgrades


Features
Cross-browser Compatibility
Important Charts Equipped
4 Distinct Layout Option
Version 1 & 2 Available
Made with Bootstrap 3
Cool jQuery Effect
Google Fonts
Stylish UI
Responsive Layout
Smooth CSS3 Animation
Easy to Use & Customize
Built with HTML5 & CSS3
Available Documentation
Multi-level Dropdown Menu
All Necessary UI Elements Available
---